---

<<
>>

Lord Of Misrule, The (.PC)

Сайт(ы) игры:
-
Проект:
отменён
Язык издания:
en
Другие:
-


Русская версия
В России*:
не издавалась


Об игре
Платформа:
.PC
Жанры/темы:
ужасы
Вид:
Управление:
point-n-click
Системные требования:
Win XP, P III 1 Ghz, 512 Mb RAM, 3D видеокарта 64 Mb, DirectX 9.0c, 1.4 Gb на диске
Лицензия:
commercial


Описание

     По мотивам одноимённой книги Рэя Кларка (Ray Clark). Однажды в студёную зимнюю пору... вообщем, тысячи лет назад храбрый монах низверг в ад некое мировое зло, а к концу XX века гнусному эвилу таки удаётся простереть свои злобные лапы в наш мир и навести на отдельно взятом островке мироздания порядочного шороху. Главный герой причастен к событиям самым непосредственным образом - вместе с другими людишками похищена его семья. Поймав визуальный сигнал одного из пропавших, он собирается в весёлую страну Лаславию на поиски своих родных и борьбу с адскими легионами.
     Всё бы ничего, но даже после обзора игры (сделанного по демке, ссылку см. ниже) с трудом верится в её существование. Тем более, что упомянутую демку скачать не дают (мол, сервер перегружен: слишком много желающих... - с трудом верится опять!), а скриншоты такие крошечные и больше похожи на иллюстрации, чем на игровые экраны. При этом с того же сервера спокойно качается кусок книги... C другой стороны, удалось выкачать два коротеньких аудиотрека «из игры». Звучат неплохо.



Материалы по игре
Обзоры, интервью:
-
Прохождения, секреты:
-
Ролики, демо, патчи:
-


Скриншоты и арт на QZ
-


Сайты фэнские и близкие теме
-



Где достать игру
Купить:
-
Скачать (?):
-


<<
>>

Встретили непонятный

термин

?

---
Трансляции:
Рекомендуем:
Магазин Озон
Браславский
Коды к играм
Что это за игра?
проверьте себя
Купите диск: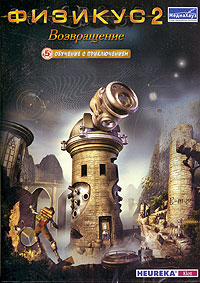 см. в Энци